For many years my sister and I would battle it out game after game of Connect 4. The game, which has a similar format to Tic-Tac-Toe, has actually claimed hours of my life and my family members' too.
While discussing our wins and losses the other day, someone asked us about the history of the game, and I must admit that we were both stumped. We didn't know very much about the game that formed such a large part of our childhood, and because of how often we played it, I thought it was time to find out a bit more about its history and background.
The history of Connect 4 (four-in-a-row) has the following highlights:
Captain Cook is rumored to have played a similar game obsessively.
A Connect 4 type of game is featured in a book by Robbie C. Bell.
Theodore R. Duncan patents a similar stacking in a row game in 1946.
A company called Funtastic sells a "Score Four" game in 1968.
In 1973, the modern version of Connect 4 is created by Howard Wexler and his business partner, Ned Strongin.
In 1974, the Connect 4 game is licensed by Milton Bradley (which was later bought by Hasbro).
In 1988, Connect 4 was solved for the first time.
The early history of Connect 4 (or four in a row) type of games is somewhat hazy, to say the least. While there is no definite history, it is interesting to take a look at all the instances where Connect 4 types of games have made a mark on history in the gaming world. If you want to learn a bit more about how Connect 4 became a popular game concept, read on.
The History and Origins of Connect 4
1. Connect 4 and Captain Cook
As mentioned in the book "More Board Game Education", legend has it that the well-known explorer Captain James Cook used to spend hours in his cabin playing a game that was similar much to Connect 4.Of course, Captain Cook did not play alone. It is recorded that his favorite opponents were a naturalist called Joseph Banks and a botanist called Daniel Solander, who joined him on his voyages.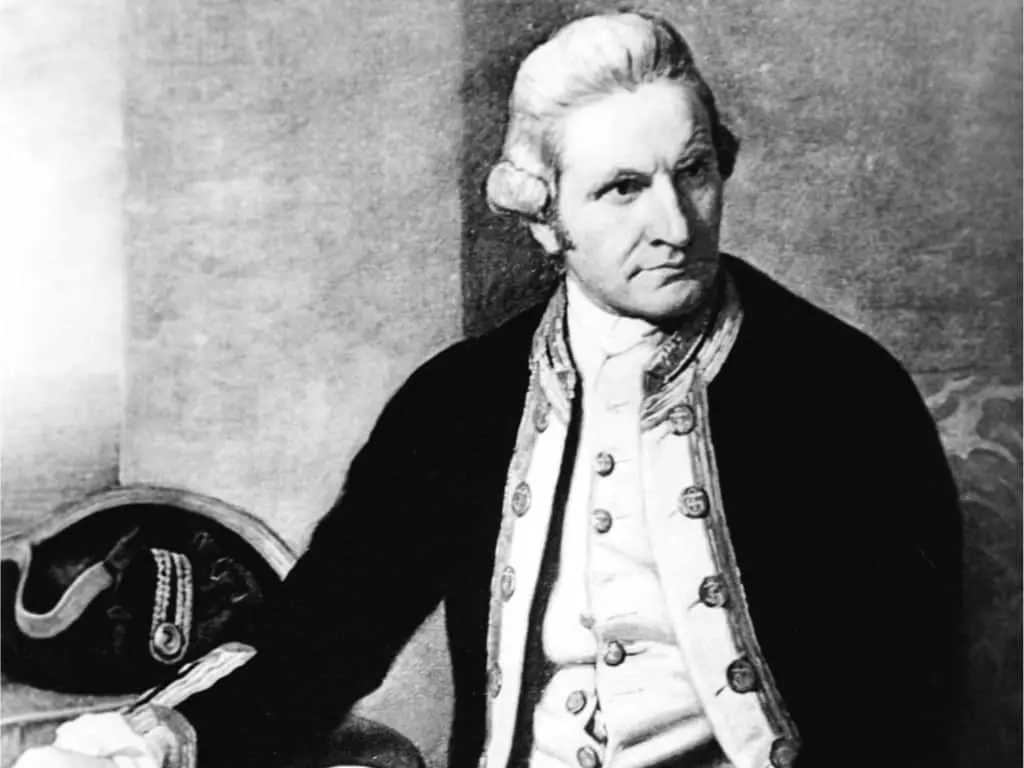 Because of the amount of time that Captain Cook dedicated to the game, it was nicknamed the "Captain's Mistress," and this name has been used by many people over the years.
2. Robbie Bell's Book Features Connect 4 Game
Robbie Bell, a well-known board game author in his time, wrote a book that actually featured a mention of a game that is similar to the Connect 4 concept. In his book, Bell features an image of a game that is quite similar to Connect 4. It is a game made from Mahogany wood with beech balls for pieces and it is labeled "Four Balls".
According to Robbie Bell, the game dates back to 1901 – 1910 and forms part of Edwardian history. Of course, there are board game enthusiasts and historians who could agree or disagree with this.
3. In 1946, a Theodore R. Duncan Patents a Game Similar to Connect 4
Some say that Connect 4 is part of a family of 4-in-a-row games that have come out over history. Because of this, it is believed that the game concept is far older than it is thought to be.
The main concept of the modern game as we know it today is that of dropping game pieces into a rack rather than placing them on a board. Before that could happen, the 2D versions of the game actually played on a game board had to come about.
Many attribute the earlier concept of the game to one Theodore R. Duncan. Not much is known of this man except that he has a patent in his name for a type of 3D stacking Tic Tac Toe game that involved dropping or stacking in a row. This particular patent was filed on the 6th of August 1946.
4. The 1968 Version of Score 4 by Funtastic
While there have been several versions of both 2D and 3D stacking game concepts that have emerged over time, it is the one sold by Funtastic that is considered to be a direct game that Connect 4, as we know it today, is derived from.
The game concept was copyrighted by Funtastic in 1968 under the name of "Score Four". Back in 1968, this game was a wooden game consisting of a 4×4 grid or rack with vertical poles protruding upwards from a board. In order to play, players would drop wooden beads into the pole slots, which then allowed for a row of 4 beads to form in any direction. Sound familiar? To me, it sounds similar to the game we play today, except we use colored discs instead of wooden beads.
5. In 1973, the modern version of Connect 4 is created by Howard Wexler and his business partner, Ned Strongin.
If you want to find out more about how exactly the modern version of Connect 4 was invented, take a look at the following clip from Howard Wexler on how the game was created.
6. Milton Bradley Releases Connect 4 in 1974
Connect 4, as you know it today, is the game that was trademarked and released by Milton Bradley in 1974. If you have a Connect 4 game that was bought after 1974, then you have the original Milton Bradley version of the game. Milton Bradley was actually a game company that was started by Milton Bradley in Massachusetts in 1860.
After releasing the Connect 4 game in 1974, Milton Bradley was bought out by Hasbro just 10 years later, and so Connect 4 became the property of Hasbro.
7. Who First Solved the Game of Connect 4?
A large part of Connect 4's history is when it was solved. If you have not yet heard that the game is solved yet, perhaps now is the time for you to look it up. If you have read that Connect 4 is a solved game, it is true – not a myth.
What does it mean that Connect 4 is solved? Basically, it means that there is a way for a player to win at the game every time, if they follow a specific strategy. I must admit that once learning this is a strategy to use, I have used it several times when starting the game, and won!
The classic version of Connect 4 is played on a 6 high by 7 wide grid, where, according to YouTube channel Numberphile, there are a whopping 4,531,985,219,092 possible moves. This fact alone makes it quite impressive that the game was ever solved – but it was!
Who solved the game first? A man called James Dow Allen was the very first person to ever solve Connect 4. He solved the game on the 1st of October 1988. Shortly after, another man called Victor Allis solved the game on the 16th of October 1988.
James Dow Allen wrote a full analysis of the game where he details various winning strategies. Victor Allis has also been quite forthcoming with his description of how to win using 9 strategies to solve the game.
To win at a game of Connect 4, you have to be the player to start the game – or at least that's what those who have solved the game have to say. The first player must play perfectly in order to ensure a win. The trick is to start in the center column.
8. Other Advancements and Versions of Connect 4
When taking a look at Connect 4's history, I couldn't help but notice that there are changes and advancements still happening that involve the game. Connect 4 certainly hasn't remained a stagnant game concept – it has definitely moved with the times. In modern times, a lot seems to have happened surrounding the Connect 4 game. I found that many versions of the game have been released, including video games and apps.
As you can see, Connect 4 is not just a historical game, but one that seems to be forging full steam ahead into the future too.
Last Word
Connect 4 is a game that has come a long way over the years and that has not been stagnant by any means. Right now, Connect 4 is still making history as more versions of it are created and released.
Whether you have the classic traditional version of Connect 4 or plan to invest in one of the more modern versions, you could be a part of its history by keeping the game in your family traditions.