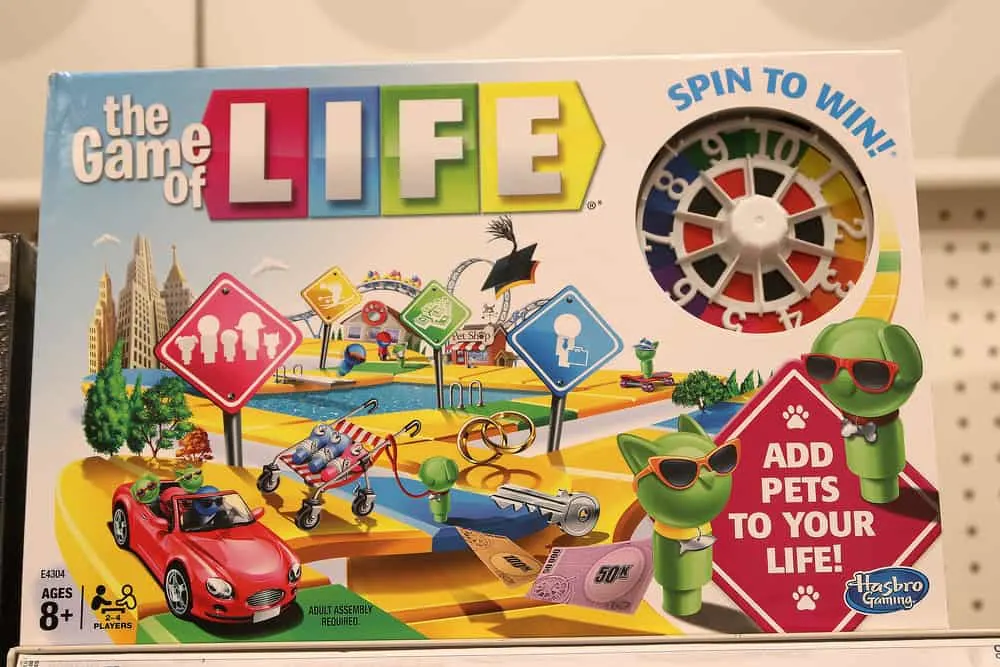 If you are looking for a board game that replicates the average life of a person, from adulthood to retirement, while progressing around the board, The Game of Life is the perfect game for you. While I have played this game a number of times and thoroughly enjoyed it, I have never really taken the time to think about its background and the various points of interest – until now.
I'm willing to bet that you probably don't know most of the facts I found about the Game of Life, especially if you have never played the game. If you would like to ensure that you get to know the game a little better before you play it again or before you play it at all, read on.
Below are 20 fun and interesting facts I was able to scrounge up about the Game of Life.
Milton Bradley had never created a game before, but in 1859, after purchasing a lithographic printer, he decided to create the first version of the game we know today as the Game of Life. By the time he founded the Milton Bradley Company, his game had sold nearly 45,000 copies.
2. It is often called LIFE.
If you are hunting around online for the Game of Life board game and keep getting confused when you see games called "LIFE" popping up, do not worry; it is the same game!
3. Life aims to teach children the value of morals.
The intention was to teach children that having good morals was, in fact, rewarding even though some mishaps and real-life problems were included in the original version of the game.
4. First version: The Checkered Game of Life.
When Milton first released his game, it was not called "Game of Life". It was actually called "The Checkered Game of Life". This was mainly because the game board was simply a modified version of a Checkers board.
5. First release of Life was in 1860.
The game was ready for its first release in 1860. In fact, the release of the game actually launched the Milton Bradley Company. The company went on to sell the likes of Battleship, Candy Land, Crossword, a wide variety of Disney games, and many others.
6. In its first year, 45,000 copies were sold.
By the time Milton Bradley founded the Milton Bradley Company, his game had sold nearly 45,000 copies.
7. Same-sex marriages were allowed in 2009 in online versions of the game.
The Game of Life became more inclusive of everyone by adding an extra feature that allowed same-sex marriages to go ahead.
8. Materialism was the main focus of the game, but that changed by 1992.
The game was focused on players trying to gather as much money as they could before the end of the game. In 1992, new features were included in the game that rewarded morals and good choices over material behavior.
9. The game is based on Milton's morals.
History tells us that Milton Bradley based the game on his very own life morals. This is the very reason why the game includes a spinning wheel and not a dice, as he associated dice with gambling.
10. Players can: marry, sue, go to college, have kids, and even get insurance.
There is a lot that players can do in the game. When players are trying to choose between Monopoly and the Game of Life, it is the fact that a player can do all of these extra things that makes it come out on top.
11. 1960: Life gets a 100th birthday revamp.
In 1960, when the Game of Life turned 100 years old, it was completely revamped and overhauled. The modern version of the game was designed by Reuben Klamer (a known game designer) and was endorsed by Art Linkletter (a very popular television and radio personality).
12. Life had the first 3-D game board in the 1960s.
In the 1960s, board games typically came with flat surfaces and with pieces kept in a bag. Game of Life was completely different in that it came with a bi-fold game board with built-in mountains and buildings.
13. Life became a television show in 2011.
In 2011, Game of Life was turned into a television game show in America. It was shown on The Hub, which is now known as "Discovery Family". Frank Nicotero hosted the game. It only ran until midway through 2012.
14. Dice are not used because Milton associated them with gambling.
Milton Bradley did not want the game to include dice, as it felt it would associate the game with gambling.
15. "Suicide" was a square in the game, in the first edition.
Milton included suicide as a part of Life as he felt it was realistically a part of his journey. The suicide feature was removed from the game and now modern versions do not include it.
16. It is part of the Smithsonian's National Museum of American History.
Being part of the Smithsonian National Museum of American History is a great achievement. This museum collects and seeks to preserve (while displaying) the true heritage of the United States. It focuses on all areas of American history, including social, cultural, political, scientific, and military.
17. The Game of Life was inducted into the National Toy Hall of Fame.
It was only in 2010 that the game was officially inducted into the National Toy Hall of Fame. This, too, is quite an achievement as the National Toy Hall of Fame only features games that have been able to maintain their popularity over many years. There are several criteria for a game to meet the standards, and these include innovation, longevity, discovery, and icon status.
18. Life is available in more than 20 languages.
Of course, the first version of Game of Life, being an American game, was released in English. As the Game of Life grew in popularity, word of it spread to other countries. Now the game is sold internationally and is available in a wide variety of languages too.
19. The average game takes around 1 hour to play with 2 to 6 players.
For many, it's great news that the game only takes about an hour to finish. This is particularly useful if you are playing with young children. Unlike Monopoly, the game of life has a definite end. This means that you can put a limit on how long the game will take to play. It is also best suited for 2 to 6 players.
20. There is a multitude of Game of Life versions available to choose
There are so many variations of the Game of Life that players are quite literally spoiled for choice. Some of the most popular ones include Classic Edition, Electronic Banking Edition, SpongeBob Square Pants Edition, Simpson's Edition, Pirates of the Caribbean Edition, Fame Edition, and even Extreme Reality Edition.
Last Word
As you can tell, the Game of Life is a game that is not just enjoyed by millions of people, but has actually made history and been recognized as such. I must admit that I thoroughly enjoyed getting to know a bit more about the Game of Life. It will merely add a more exciting element to the game the next time I play it.