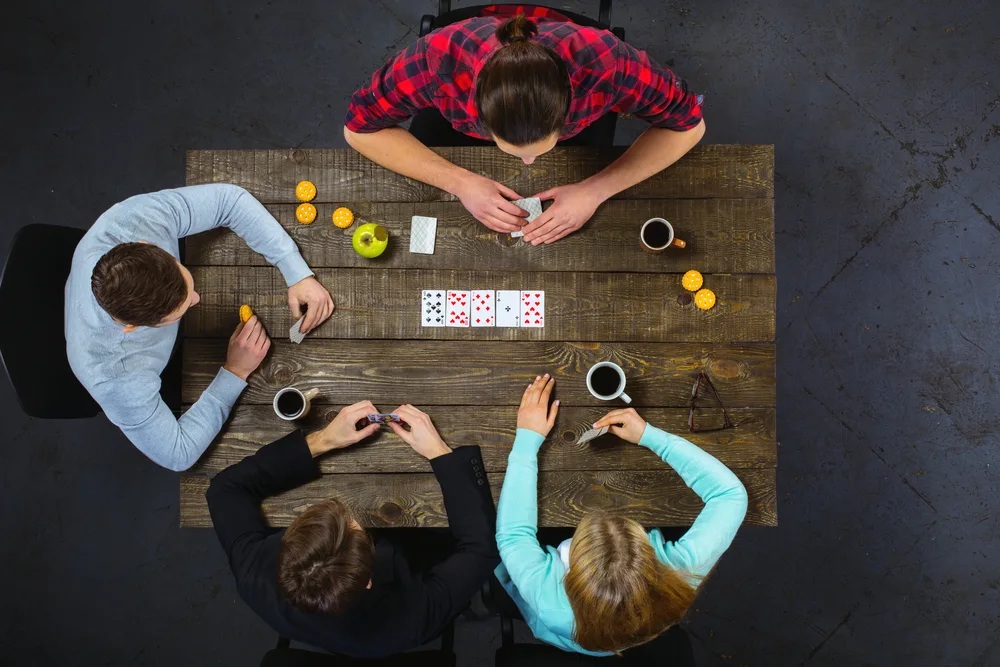 Cards weren't always as accessible as they are today. At times they were even used in currency exchange. As the production process became easier and faster, obtaining them became easier too. This was due to the material for making cards being switched to paper and cardboard. When this happened, card games became widely popular among all classes of people.
Whether you've never held a deck of cards before or you're a card games connoisseur looking to expand their experience, we've got you covered with some of the best card games of all time.
This list is but a 'drop in the ocean' of all card games in existence, but they're a good start if you'd like to experiment with which card games are more 'for you. Ready to get started? Read on.
These are some of the best card games:
1. Solitaire
Solitaire used to be a competitive game for two players that eventually evolved into a peaceful, leisure-time single-player card game. The object of this game is to stack all of the cards in the deck in descending order across four piles. Piles are divided by suit, and the cards should be piled up, starting with the King and ending with the Ace.
2. Speed
If you like exciting, fast-paced card games for two people, Speed may just be the game for you. It's a perfect pastime for a simultaneously exciting and laid-back afternoon with a friend. Speed is designed for two players only but can be enjoyed by players of all ages. The object of the games is to discard your cards in numerical order, either ascending or descending, as fast as possible until your hands are empty.
3. Spades
Spades have been a popular card game among college students for almost a century now. The optimal number of players for Spades is between two and seven. The game's object is to collect the highest number of 'tricks' per round. A trick is a set of matching cards by either suit or number.
4. Uno
Everyone is familiar with Uno – a classic family card game designed and produced by Mattel. This game has been around since the early seventies, and since it's been a central activity of numerous family get-togethers across the country. The object of Uno is to match the colors and cards in your hand, being the first one to lay them down on the table. The game is won by the first person to score five hundred points.
5. Gin Rummy
Gin Rummy was invented in 1909 as a spin-off of the original game of rummy. The optimal number of players for this game is two to six. Gin Rummy is played with a standard deck of cards, and the goal of the game is to collect a set of cards within the same suit that follows a numerical order or a set of numerically identical cards across each of the four suits. The first person to score one hundred, by adding the values of their sets together, wins.
6. Go Fish
Another classic that can be enjoyed by players as young as three and among three to six players is Go Fish. This game is an excellent way of introducing young children to numbers and teaching them how to match them up.
7. Blink
A two-player game of Blink is so exciting you should definitely give it a shot! Warning: don't look away – This game is so fast-paced it's over within two minutes. The game's objective is to get rid of the cards in your hands as quickly as possible by matching them with to the discard pile by color, shape, or number.
8. Cribbage
This game used to be known as "Noddy" in old English, and it is a card game that is best enjoyed by two people. The object of Noddy is to earn points by creating various combinations of cards on the pile using the Cribbage board for keeping score-keeping simple. The first person to achieve one hundred and twenty-one points is the winner.
9. Quiddler
Quiddler is a word-based card game – a fun way to sharpen your brain! The game's goal is to build words from the cards you have in your hand. You can either play alone or with up to seven players. You may either attempt to build fewer long words or multiple short words. The game gets more complicated as it progresses as the number of cards being dealt per round increases.
10. Karma
Karma is another fast-paced game that is best played among three people aged between eight and adulthood. The game's object is to discard cards from your hand by matching the discard pile with cards that are either of the same rank or one rank higher until you're left with empty hands.
11. Canasta
This game has its roots in 1948 in the USA. It's played with two standard card decks, including all four jokers, among four people split into two teams. The game's object is to collect as many cards of the same suit as possible. Each suit of cards is worth points, and the player with the highest score at the end wins.
12. Duo
This quite fast-paced game will have you excitedly anticipating your next turn. Duo can be played with three people but is best enjoyed by two to six players. The object of the game is to be the first one to discard all of your cards by matching two out of three components of the foundation pile.
13. Peanuts
It's a fast-paced game that helps train your eye-hand coordination. The optimal number of players for Peanuts is two, but it can be just as fun with three or more people. Mind that the more players are present, the harder it is to concentrate. The object of Peanuts is to stack cards from your hand onto the foundation pile in the middle and score the greatest number of points by doing so. The first player to score one hundred and fifty points is the winner, and if multiple people reach this score, the player with the highest score overall wins.
14. Phase 10
Phase 10 is an exciting card game designed for a table of four players. The goal is to complete all ten phases of the game without being left behind. Each time a player successfully completes a phase, they may move on to the next, but if their opponents get stuck with cards, they must add them to their score and repeat the phase.
15. Not Parent Approved
Despite what the name suggests, this game can be played with players as young as eight but will likely be most exciting for teens. The game can be played with as few as four and as many as ten players and can keep you entertained for hours. The object of the game is to fill the blanks of the words on the cards to achieve the highest score.
16. Memory
While this game can be played with a standard fifty-two card game, it's best if you purchase one of the purpose-designed card packages. This game is an excellent way to train children's memory as it revolves around matching cards with the same imagery. Your kid can play alone or with a group of friends; the more players involved, the greater the challenge!
17. The Oregon Trail
This card game can be enjoyed by two to six players. An old-school game originally conceptualized and designed as a video game is now optimized for cards you can purchase and enjoy with your friends and family. The object of this game is to help a member of your wagon caravan survive and safely arrive at Willamette Valley. The gameplay comprises working together while traveling over various obstacles and fighting to survive.
18. Forty Thieves
To play Forty Thieves, you'll need two standard decks of cards and ample space. The object of the game is to create eight foundation piles in order from Ace to King. It is quite similar to Solitaire, with the main difference being the order of stacking cards and double the number.
19. Dutch Blitz
The optimal number of players for this exciting, fast-paced game is two to four. The object of this game is to be the first one to discard all cards from your Blitz pile. Players race to move all cards from their Blitz pile onto the central Dutch piles on adequate order of the same color.
20. Ideal Rage
The optimal number of players for this game is three, and it's easily played by both eight-year-old children or older, and adults. Ideal Rage is played with one hundred and ten cards, and its concept is a fast-paced revenge play. The game's object is to score the highest number of points across ten rounds.
In closing
Card games are one of the most versatile game genres. This is likely owing to the simplicity of its core elements and an almost infinite number of ways to mark, combine, and utilize them. For this reason, they have been a standard go-to activity for many social occasions and will probably remain a favorite for quite some time to come.
Playing a single game over and over can get tedious, though, so if you really enjoy cards but have run out of new and interesting ways to play them, we hope that the list we have provided here helps you expand your experience and make those friends and family gatherings more fun than ever.