A jigsaw puzzle comprises a blown-up picture, sectioned into tiles required to be assembled to form the original picture. The tile pieces aren't usually of the same shape and size, making assembling them exciting and engaging.
The invention of this game was during the 18th Century to help students learn geography. These puzzles were first made using a picture drawn on a block of wood that was then cut into tile pieces. Now, the pieces are made from hard cardboard for durability. You also have the option of solving these puzzles virtually through online gaming sites.
Jigsaw puzzles have gotten more complicated, from a few pieces to more detailed pictures spanning thousands of tiles for assembly. Beginning to solve these puzzles can be an exciting experience, but completing them, especially for some of these elaborate puzzles, can wear on your patience.
These are 20+ tips, tricks, and strategies for solving Jigsaw Puzzles:
1. Start Small
Jigsaw puzzles are readily available in several sizes. Instead of starting with a jigsaw puzzle with thousands of tile pieces, start with fewer tile puzzles.
Starting small will sharpen your hand-eye coordination and also help you create tricks personal to you as you develop. Starting with fewer tiles will also help you develop and maintain your enthusiasm as you move to more complicated puzzles.
2. End Game
It's essential to have an end game in mind, especially for the more challenging puzzles. What do you want to do after you finish the puzzle? Do you plan to dismantle it and start over later or glue it for framing?
Visualizing the end helps you continue with the puzzle even when things get tough and you can't find coordinating puzzles. You can also get those mats to roll with the puzzles entirely done to keep them in place.
3. Working Space
Choosing an excellent workspace is essential in solving puzzles because you need to visualize the puzzle as you go. You need a large enough space to layout your puzzle tiles, somewhere well-lit so that you can identify shapes, textures, and colors.
The workspace should also be flat enough such that when you connect your tiles, they don't detach. Professional puzzlers choose white surfaces so that the surfaces reflect light properly.
Choose places that children and pets won't get to. They may derail your progress by detaching the tile pieces or even chewing them up, so save yourself from the heartbreak.
4. Spread Out Your Tiles
Before beginning solving your puzzle, spread out your tiles on your workspace. This will also prevent you from bumping heads, especially if you're doing this with family and friends.
5. Puzzle Type
Several brands sell jigsaw puzzles and depending on how enthusiastic you are about puzzles. Some brands are available worldwide, and some make durable puzzle tiles by using hard cardboard materials that are hard to bend. For a beginner, you need puzzle pieces that are more regularly shaped.
6. Consider the size of your Puzzle
The size of your puzzle will determine the strategy you use and the amount of time you will need to complete it. Puzzles can take hours to finish; choose the right size depending on your level of expertise and time constraints.
7. Picture-Side-Up
Remember that puzzles are best solved with the colored part on top. This helps in visualizing your image and checking that the patterns flow correctly. Turn your tiles picture-side-up; preparation to solve the puzzle may take a while, but it's worth it.
8. Sort your Tiles
Before beginning your puzzle, it's crucial to begin by sorting your puzzle pieces. There are several ways of doing this; you can start by looking at the picture on the box and start by sorting the tile pieces based on the original image's distinct colors or essential features so that it's easy to assemble.
9. Get Edgy
It's good to have direction when starting your puzzle. For rectangular puzzles, the most distinctive files are the edge pieces. Find these and align them in a row, and then connect them.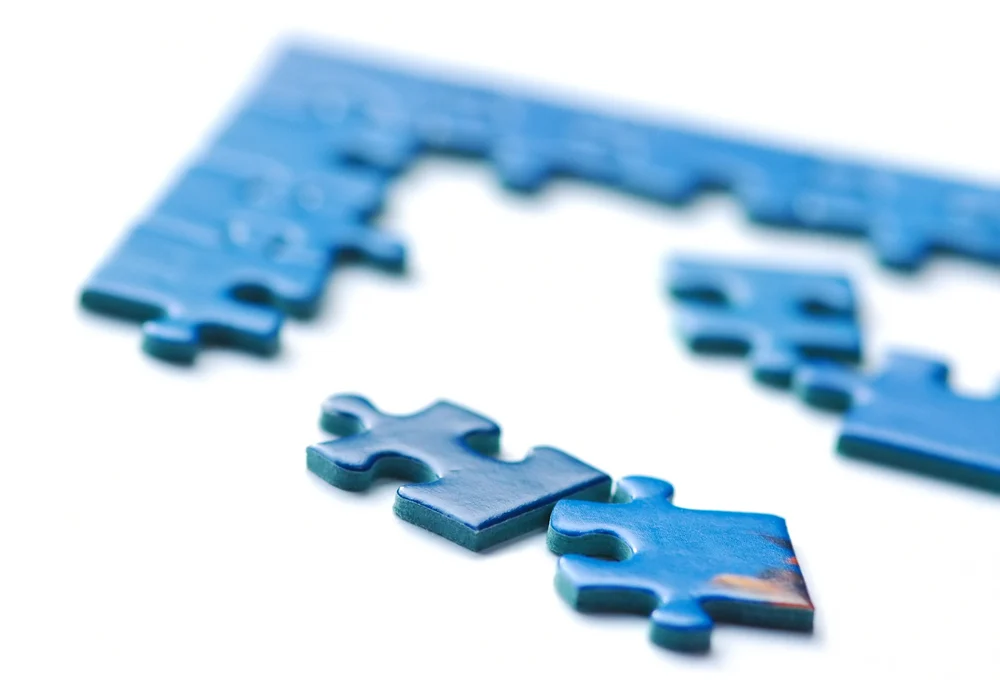 Having the borders done allows you to have a starting framework so that it's easier to know what goes where.
Puzzle pieces have gotten more versatile. Some of them are irregular in shape; an example is a puzzle of the globe or animals. It may be difficult to find these edges, but it certainly isn't impossible.
10. Getting Cornered
You have located the edges and connected them and are now wondering where to start next. If you sorted the tile pieces, you already have an edge; instead of randomly connecting the tiles, start from one point and branch out.
Most of these tiles have a distinctive color scheme, pick one and start from one corner to have a clear strategy of your end game.
11. Identify Patches
This strategy is vital for puzzlers doing complicated puzzles. These include those with tile pieces of varying sizes and designs, those doing thousand-piece jigsaw puzzles, and those who are taking up non-rectangular puzzles. These images have patches, for example, a tree patch, or depending on the puzzle, you may see a distinct face.
Start from one patch to the next so that you are now able to connect the different patches. This is similar to separating a problem to be solved into small, manageable features.
12. Check For Lines and Patterns
Because jigsaw puzzles emanate from pictures, some of these pictures have distinctive lines that connect to several puzzle tiles. Identifying them can help you connect a certain cluster of tiles, which can end up being the connection you need to get out of a stagnant puzzle-solving situation. Distinct patterns also perform the same role.
13. Spot The Redundancy
Some of the bigger puzzles usually contain a repeated smaller cut pattern repeated several times on the whole jigsaw. Identify the pattern and use it as a reference point after solving the first pattern to replicate the pattern all through.
14. Piece Shapes
Connecting the right puzzle tiles is the most important part of jigsaw puzzles. The puzzle pieces include blanks and knobs. The blanks are those puzzle pieces that contain spaces to fit tabs of other pieces. The knobs are tiles that have a protrusion.
Some of these puzzle pieces look similar but aren't the correct fit for a particular connection. A complete jigsaw puzzle should be continuous and not have spaces in between.
15. Take A Break
You may sometimes hit a snug when solving these puzzles, especially if you were so engrossed to the point of exhausting your brain. A jigsaw puzzle is more of a game than an examination test.
Remember to take breaks, especially when doing those elaborate puzzles with thousands of tiles. Your eyes will thank you. Besides, having a fresh look at the puzzle may give you a new clue.
16. Enjoy Yourself
Jigsaw puzzles are a great way to enjoy yourself and unwind after a long day or when you're vacationing. It can also help you get out of your head because the activity requires a lot of concentration. So, use this as an opportunity to experience something new.
Solving jigsaw puzzles also helps your body generate the feel-good hormones that come from the excitement of achieving something, especially when you are on a winning streak-finding the correct puzzle pieces.
17. Patience Pays
They say that Rome wasn't built in a day, so puzzles aren't completed in minutes. The number and complexity of the tile pieces and your hand-eye coordination will determine how long it will take for you to complete the puzzle, so take your time, take breaks, and be patient.
18. Always Refer To The Main Picture
The main picture should be your guiding factor; refer to your main picture frequently to ensure you're doing the right thing.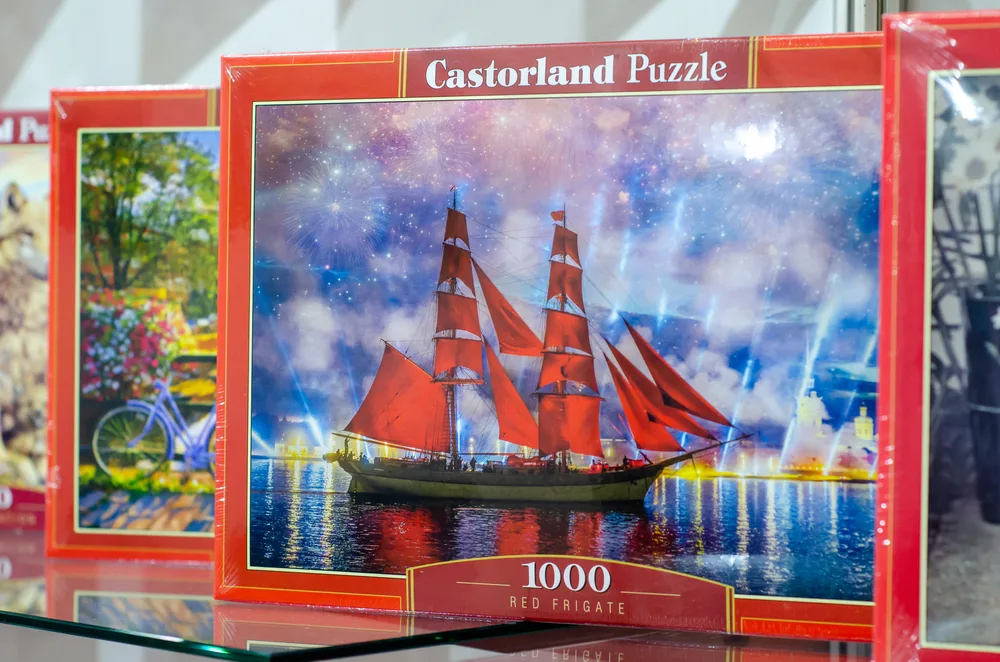 19. Small Sections at a Time
Efficiency is very important when solving jigsaw puzzles, and this includes solving small sections at a time and sticking to a clear working strategy.
20. Friends And Family For Teamwork
Teamwork makes games like these fun. Include puzzle-solving into your family time. Two heads are better than one; you will find the puzzle pieces easier and still get to do something fun with the family.
21. Don't Stop
You will most likely find it difficult to complete your puzzle, especially during the last stages of solving your puzzle, because all the easily identifiable puzzle tiles are all in place. The best method to fix this is by sorting the remaining titles into their unique shapes; this may help you better identify patterns and tile shapes.
Last Word
I am sure you're excited to try out these tips and share them with friends. Have fun!