I recently discovered that UNO was created by a man called Merle Robbins in order to solve an argument with his son over the rules of Crazy Eights. Little did he know that his homemade card game would turn into the global phenomenon that it is today. That said, something came to my attention. With UNO being based on Crazy Eights, surely, the games have some notable differences and similarities.
UNO vs. Crazy Eights: Similarities
Objective: To be the first player to get rid of his/her cards.
The player to the left of the dealer begins the game.
At least two players must participate.
The general rule of play (Gameplay).
At the end of each round, the winner gets points for the cards left in the other player's hand.
UNO vs. Crazy Eights: Differences
Standard deck of 52 cards vs. UNO deck
Crazy Eights: Dealt 5 cards vs. UNO: Dealt 7 cards
In Crazy Eights, you're free to assign which cards are used to skip, reverse, or draw. In UNO, the special cards (skip, draw, reverse, etc.) are already set.
In Crazy Eights, if unable to play, you must draw cards until you have a possible play; while in UNO, If unable to play, you must only draw one card.
8 card vs. Wild card
The card values.
UNO is played until a player gets to 500, while in Crazy Eights, it varies depending on the number of players.
They are designed for different age groups.
These are just a few of the similarities and differences between UNO and Crazy Eights. If you have spent your childhood (or adulthood) playing either of these games, you may be intrigued by what makes these games similar and what makes them different. If you would like to learn a bit more about the differences and similarities between UNO and Crazy Eights, simply read below.
What is UNO & What is Crazy Eights?
What is UNO, and what is Crazy Eights? Which one came first? These questions beg to be answered. Before you can take a look at the differences and similarities between UNO and Crazy Eights; you need to have a bit more information on each of these games.
The first thing you need to know is that Crazy Eights is a card shedding game that came before UNO was conceptualized. Crazy Eights first appeared in the 1930s and was known just as "Eights". The name "Crazy Eights" was adopted in the 1940s and is derived from the military designation for the discharge of mentally unstable soldiers (Section 8). At the time, soldiers considered mentally unfit for service were labeled "Section 8s" and were discharged.
UNO, on the other hand, is a game that is somewhat based on Crazy Eights – this is quite obvious in the similarities of the game. The game of UNO was designed by Merle Robbins in 1971 on his dining room table. In fact, the inventor of UNO is said to have played Crazy Eights regularly with his family.
When Merle created UNO, he intended the game to be purely for the enjoyment of his family, but it soon became popular among family and friends. Merle then set out to sell the game, which grew in popularity and was eventually sold to a large games company.
Both UNO and Crazy Eights can be considered the "same" game, even though there are several differences to note. The biggest difference between the games is that Crazy Eights has no particular or unique deck of cards (it's played with a standard deck), whereas UNO is only played on a specialized deck of UNO cards.
The Similarities between UNO & Crazy Eights
The similarities between UNO and Crazy Eights are what make me love both games equally (well, almost equally – UNO is still my first choice). That being said, there are members of my family that believe that because Crazy Eights came first, they should be loyal to it. Let's take a look at what makes UNO and Crazy Eights so similar:
Both games have similar "moves" or "plays" available.
In order to note the similarities, you only need to play both games – it will be obvious. Both UNO and Crazy Eights games have cards that allow the following moves: skip a turn, reverse direction, Wild Card or 8 (can be played any time), and pick up cards.
The object of both games is the same.
The main objective of both UNO and Crazy Eights is to get rid of the cards in your hand as soon as possible, by placing them on the discard pile. This is done by matching the number or suit in Crazy Eights, and the number, suit, or color in UNO, with the previous player's discarded card. The player who gets rid of his/her cards the quickest is the ultimate winner (of the round).
Players have to announce that they are down to their last card in both games.
In both games of UNO and Crazy Eights, players are required to advise the group when they are down to their last card. The correct way to do this is to call "UNO" Or "Crazy Eights" when the second to last card is discarded. If a player does not do this, any other player can call them out on it, which results in the offending player being penalized. The penalty is to draw 2 cards from the pick-up pile. It's important to note that in Crazy 8, this rule is not always the norm. Players might choose to play without this rule.
Both games are designed for 2 players or more.
While both UNO and Crazy Eights can be played with as little as just 2 players, a larger group is often more fun. UNO can be played by up 10 players, while Crazy Eights is usually played with a max of 7 players.
The Differences between UNO & Crazy Eights
Because I have played both Crazy Eights and UNO, I am in a great position to provide helpful advice on both games. While the similarities between UNO and Crazy Eights are undeniable, there are a number of differences to also be aware of. These differences are as follows:
The players of each game start with a different number of cards.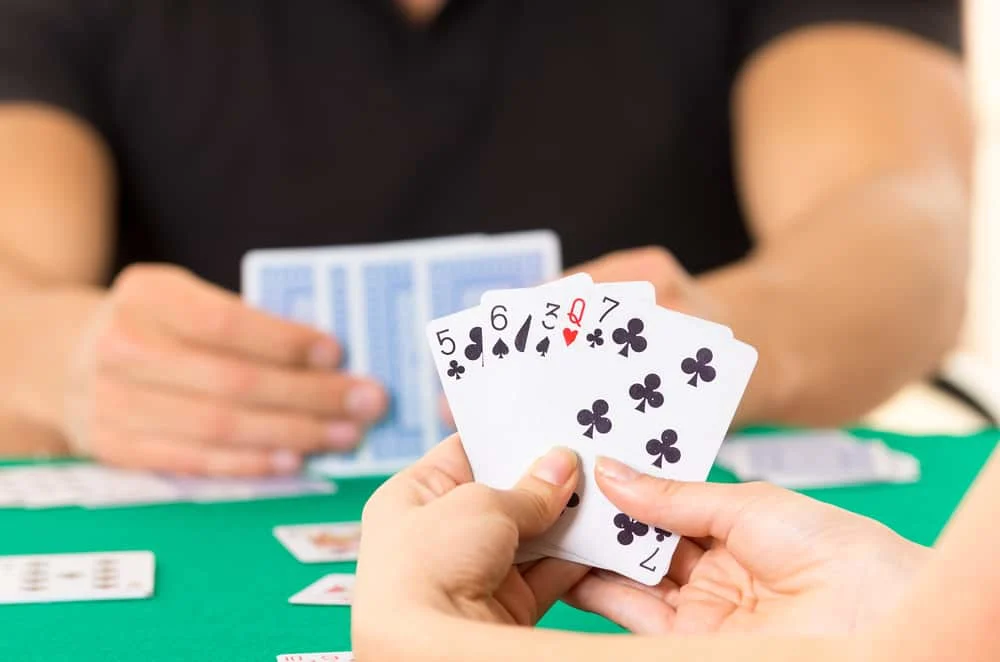 In the game of UNO, players start with 7 cards, while in Crazy Eights, players are usually dealt with 5 cards, to begin with.
The cards used for the games are different.
You will find that while both card games play very similarly, they use different decks of cards. Crazy Eights has no specific deck of specialized cards attached to it. The game can be played with a standard French deck of 52 cards. Each of the cards has a certain "action" attached to it.
UNO, however, has its own deck of specialized cards. These cards are designed specifically for the game of UNO and simplify the gameplay. In fact, the inventor of UNO, Merle Robbins, created this deck of cards in 1971 in order to settle an argument about the rules of Crazy Eights, with his son. His new deck of cards set out to simplify the rules and rule out any possible confusion.
The age groups that the games are aimed at are different.
I have played UNO and Crazy Eights with toddlers and with old grannies and grandpas. I find that both games are universal in that they do not discriminate in terms of age. That is in my personal experience, though. That being said, ironically, the information released on both games tells a slightly different story. UNO is officially designed for players of 7 years and older, whereas Crazy Eights is designed for players of 4 years and older.
Drawing cards work differently in each game.
Drawing cards is something to sigh about in a game of UNO and a game of Crazy Eights. When you are drawing cards, your chances of winning are greatly decreased – after all, the objective of both games is to get rid of cards.
In both UNO and Crazy Eights, when a player plays a certain card, the next player will need to draw a card. But there is another way that cards are drawn; that is when the player has no legal move to play.
In UNO, a player must draw a card if she does not have a playable card. After that, if the drawn card is still not playable, he has to pass. On the other hand, in Crazy Eights, if a player is unable to play, she must draw cards until a card is playable or until there are no more cards to be drawn.
Last Word
It goes without saying that both Crazy Eights and UNO games are regularly played at my family and social gatherings. If you have been wondering which game you should try, I would strongly recommend giving both a try.
While Crazy Eights will require a bit more thought as the card actions aren't immediately obvious, learning the gameplay will come fairly easily. For smaller children where ease of play and understanding is important, the unique deck of UNO cards really does make things easier.
Whether you are setting out to play Crazy Eights or UNO over the next few days; good luck and enjoy!