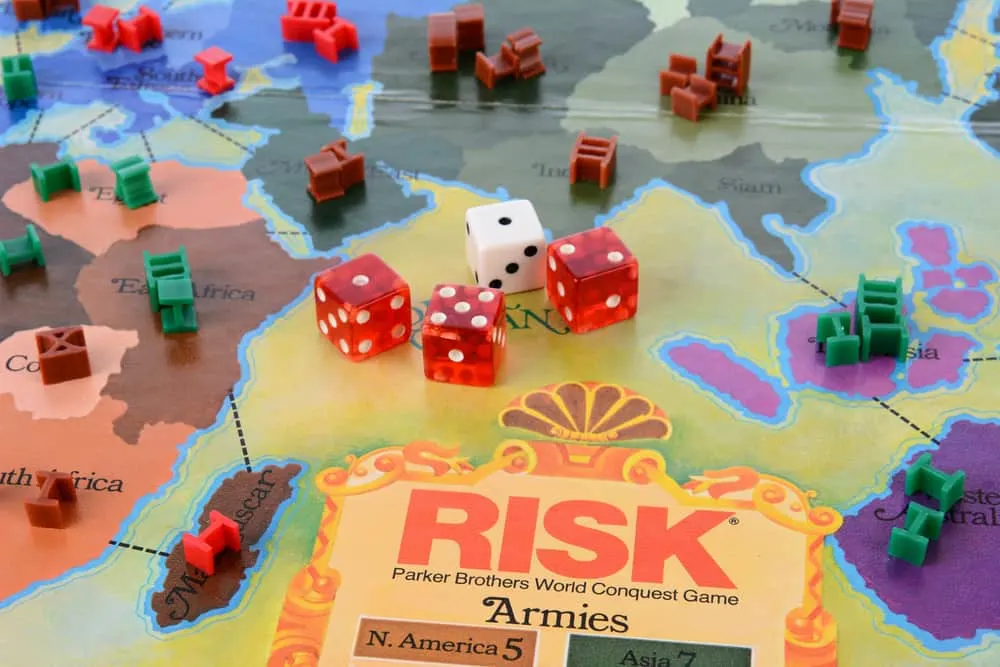 Risk…it is a board game that has been a firm family favorite in America (and in many parts of the world) for many years. Playing Risk is fun, but is it beneficial to you and others who play it?
While battling it out over the Risk board a few weeks back, someone mentioned just how beneficial playing Risk is for both kids and adults alike. It was the type of conversation I had never had about a board game before. No one really buys a board game based on the benefits it offers, do they? I found it all quite interesting and wanted to know more.
Playing Risk is fun, yes, that is hard to dispute, but is it actually beneficial? Absolutely, it is. I might not have known just how beneficial the game is, but I have certainly benefited from playing it over the years. After doing a bit of research and talking more to people who buy games based on their educational and developmental benefits, I have found that there are 12 benefits to expect when playing Risk. These 12 benefits are as follows …
12 benefits and advantages of playing Risk (the game):
1. Playing Risk is something fun to do.
As a family or group of friends, sometimes it is nice to have something fun to do as a group. It is not always easy finding activities that the entire group will be interested in, but when it comes to board games, it is a lot easier. Risk is one of the more popular board games because it is fun. If you are looking for something fun to do as a group – good clean fun that is – playing Risk should be on the top of your list of priorities.
2. It is a good brain workout.
There are various games that families and friends can look into, depending on their preferences and needs. For instance, some people might seek out numbers games to help kids battling with counting and mathematics. Others might look for games that promote the development of cognitive skills. It is safe to say that when it comes to board games, some are designed to be simply fun and pass the time, whereas others are designed to make players think and boost brain activity.
Boosting brain activity is something that most parents look for in a game for their kids. Risk is certainly a good brain work out kind of game. It requires players to think, strategize, take action and then take reactive action.
3. Risk provides an opportunity for family, friends, and colleagues to bond.
Getting everyone in one room to bond and form deep relationships can be hard, especially if that is the known, underlying reason. In fact, it can be quite awkward. When there is a board game such as Risk, there is a drawcard. "Let us get together to play Risk" is something that has been said and even texted in my family for years. Coming together to play Risk takes the pressure off the situation of bonding, but provides an ample opportunity for bonding at the same time.
4. Playing Risk strengthens relationships.
Playing board games, such as Risk, is a great way to strengthen existing relationships. If you are wondering how and why, think about it from the following perspective. Being in opposition to each other, while still having a deep bond or connection, can create an opportunity for relationships to grow.
5. It is a great way to boost strategic thinking.
Risk is a board game that is all about strategy, and it stands to reason that the more you are exposed to the act of strategic thinking, the more you will start to think in that manner. If a player can't think strategically and always be thinking one step ahead, they are not going to get very far in the game.
One of the benefits of playing Risk is that the more you play and the more others guide you and teach you, the more strategically your brain will start to think. In the end, simply playing Risk boosts your strategic thinking skills.
6. Risk can be used to teach children to think ahead (think things through).
Kids do not often put too much thought into what they do. They do not think much about how what they do now will have an impact on the future. Parents can use the game of Risk to teach children that there is, in fact, risk involved in every single choice and action and that some forethought must be put into everything, before something is said or done. If you want to spark a new way of thinking ahead within your children, Risk is the game to play.
7. Playing Risk helps reduce cortisol and thus minimizes stress levels.
Cortisol in the body is the stress hormone that makes us feel highly strung and stressed out. Adults spend their lives looking for ways to reduce stress (and ultimately cortisol levels). Playing Risk is a great way to keep those cortisol levels down and to keep stress levels to an absolute minimum. Introducing your children to Risk and other board games early on in life will be teaching them how to cope with stress and reduce it in their lives. They will already have a healthy go-to while they are still kids.
8. Risk provides a distraction from anxiety.
If you or your children or your partner suffers from anxiety, it can be quite debilitating. Anxious behavior can increase stress levels and cause a poor quality of life. People with anxiety need to learn effective coping mechanisms to ensure that they keep their anxiety under control.
Having something else to focus on is a good way to keep anxiety at bay or under control. Playing a game that requires full attention and engagement, such as Risk, is a great way to distract from feelings of anxiety.
9. Risk is a great game to use at social gatherings for entertainment.
If you are looking for some form of entertainment for a social gathering with family or friends, Risk is a great game to consider. It is a game that can be enjoyed by the whole family, young and old. It also provides people a common focus, which takes the pressure of socializing.
10. There is a version of Risk for anyone and everyone.
One of the greatest benefits of playing Risk is that you can interest just about anyone with it. There are so many different variations of the game that range from European Castles to Star Wars. Whether you are playing Risk with the kids or your peers, there is bound to be an available version that interests them.
11. Parents can use Risk to teach kids about actions and consequences.
In life, there is always an element of action and consequence. If children take action on the Risk board without thinking it through or considering the possible consequences, they could find themselves falling behind in the game and eventually losing. It does not take kids long to start realizing the correlation between action and consequence when it is learned in a fun and engaging way…such as playing Risk.
12. Playing Risk encourages healthy competition.
Healthy competition is important for the development of kids as well as adult relationships. It helps people set boundaries and get to know each other on a deeper level. When in competition with someone else, you can see a bit more about who they are, how they behave under pressure, and what their personal ethics are.
In closing
Obviously, these 12 benefits are of value to many families and me too. I feel that anyone looking for a fun activity to do with others that will have a positive impact will find these benefits a major drawcard. So, if you are looking for a game that is as beneficial as it is fun, Risk is a great choice. It has been a firm favorite ever since it was released in 1957. For families interested in a game that is educational, that offers the opportunity to develop personally, and is spans of fun; Risk is the obvious choice.