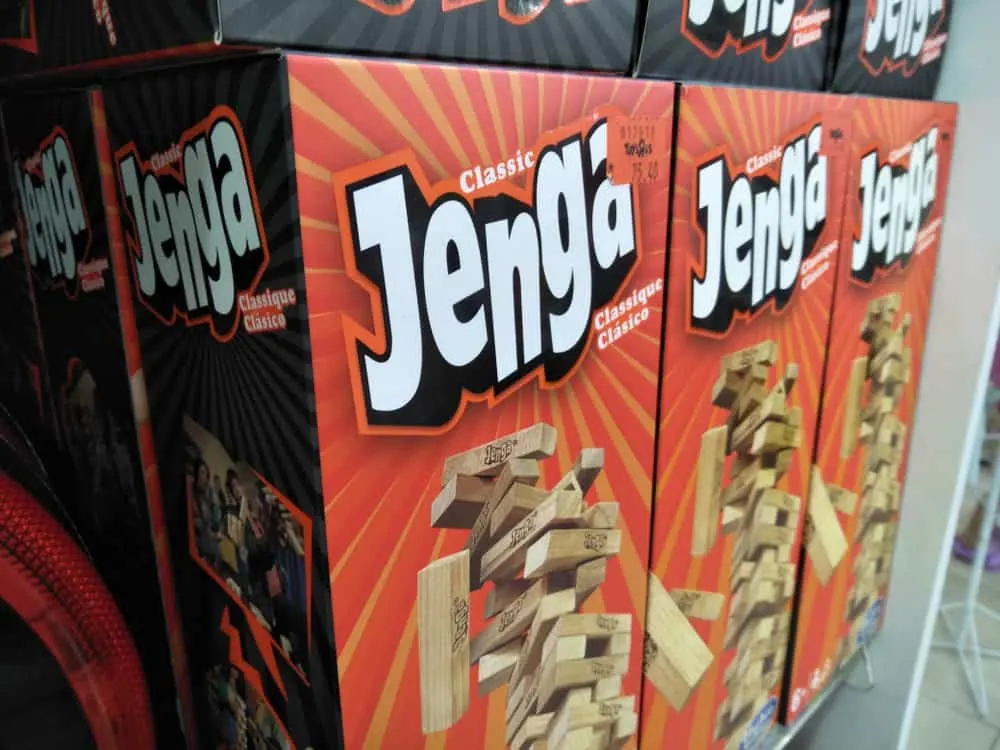 The game of Jenga has been around since its inception in the 1970s in Ghana, Africa and subsequent launch in London, England. The word 'Jenga' is Swahili and comes from the work 'kujenga' meaning 'to build'. Anyhow, if you are reading this article, you're probably wondering whether (or not) the Jenga name is trademarked? Well, let's find out.
Is Jenga trademarked? Yes. The game Jenga was given its name by its creator, Leslie Scott and was trademarked following the London Toy Fair in January of 1983. The trademark rights were later sold to Robert Grebler, owner and operator of Pokonobe Associates. Currently, the Jenga brand is marketed by Hasbro under the Milton Bradley label.
In the beginning, the game was marketed publically through the creator's own company called Leslie Scott Associates. The game was eventually launched in North America in 1986.
Now that you know the game of Jenga (and its name) is trademarked, let's take a closer look into its history. We will discuss how the game originated and how it has changed over the years. We will also review what a trademark is, the legalities surrounding it and why it is important to trademark a game like Jenga. So, if you're ready to learn more about the game of Jenga, then lets' get started!
What is a Trademark?
A trademark is basically another word for brand. It is a recognizable word, name, symbol, or device that identifies a product or service and sets it apart from its competitors. Current copyright laws protect what is seen as 'original works of authorship' including music, art, games, literature, and other forms of entertainment, but not ideas and processes
The game of Jenga has its own unique trademark particulars, including a serial number, registration number, status date, filing date, attorney name, classification information, trademark owner information, and trademark event calendar. See here for further details. The trademark allows consumers to easily distinguish the game from 'knock off' or counterfeit brands and is a symbol of authenticity and high-quality.
Currently, there is more than one registered trademark, including the term 'Jenga'. However, they are all owned by the same company, Pokonobe Associates. If a different entity were to use the term in combination with another word, for example, 'Crazy Jenga' and try to market it publicly, the individual or corporation could be liable for trademark infringement, resulting in possible prison time and/or monetary fines.
What is the Jenga Trademark?
The Jenga trademark is visible on the game by way of a capital 'R' with a circle around it in the top right corner beside the 'Jenga' logo. There are a number of trademarked Jenga game variations which include the original hardware game, Jenga Giant, Jenga XXL (cardboard game), Jenga Throw N' Go, Jenga Ocean game (made from recycled fishing nets), Jenga Bob's Burgers edition, Jenga National Parks edition, Jenga Premium and Jenga Giant Premium. It is also available in video games.
How did the Game of Jenga Originate?
As mentioned above, Jenga originated in Ghana, Africa, in the 1970s. Its creator, Leslie Scott, and her family would play the game using wooden blocks purchased from a sawmill in Takoradi. Scott was born in Tanganyika and raised speaking both English and Swahili. It was the Swahili word of 'kujenga' meaning 'to build' that inspired the name of the game.
Scott, a British national, launched and trademarked the game as 'Jenga' in 1983. The first blocks were manufactured for her company (Leslie Scott Associates) by Camphill Village trust in Boston, Yorkshire. Sets were sold through Leslie Scott Associates until 1984 when Robert Grebler, an entrepreneur from California, expressed an interest in both importing and distributing Jenga throughout North America.
In 1985, Grebler acquired the exclusive rights from Scott's company with the intention of selling the game in North America, specifically Canada and the United States. In October of that same year, he obtained the worldwide rights to Jenga which he turned over to Pokonobe Associates to trademark. This company was run by Grebler himself and two of his cousins.
To further increase the distribution of the game, Pokonobe Associates officially licensed Irwin Toy to market Jenga in Canada. Irwin Toy, in turn, licensed Schaper to market the game in the United States. Schaper was later bought by Hasbro and Jenga was then launched under the Milton Bradley label in 1987. As a result, Hasbro became the official licensee of the game worldwide.
Why is it good to Trademark a Game like Jenga?
There are several reasons why a game like Jenga is trademarked. Having exclusive rights to the name and logo legally ensures that no other entity can use it without authorization. Therefore, when you purchase the trademarked game, you know it is the 'real thing' (not a counterfeit product) and meets a high-quality standard. This reputation is what attracts consumers, as authenticity is critical when it comes to goods and services.
Trademarked companies, such as Hasbro, will often work harder to provide superior quality services and products to ensure both support and success in the marketplace. Trademarks offer protection for businesses as well as consumers. It is essential to establish a good reputation with the public and trademarking a game like Jenga is one way of achieving this.
Leslie Scott, the creator of Jenga, discusses…
"the adventurous tale of personal triumph and business success with keen insights into the secrets behind launching one of the best-known brands in the world"

Leslie Scott
…in her book entitled About Jenga: The Remarkable Business of Creating a Game that Became a Household Name. If you like to give it a read, go ahead, you can check it out online at Amazon.com today!
A Great Way to Reduce Screen Time
The game of Jenga continues to be a family favorite, great for those ages six to sixty (and beyond)! It is available for purchase online at Amazon.com in its many variations including the classic hardware game, Jenga Giant JS7 hardware game and Jenga stacking and tumbling tower game for kids. Go online and check out the different versions of Jenga today. You are sure to find one (or more) you enjoy! Best of all, if you order online, you can have it delivered right to your door!
To summarize
A trademark is a recognizable sign or symbol that is legally registered and established. It is used to distinguish a particular company's goods or services from those of other competitors in the marketplace. A federal trademark carries a term of ten years, with ten-year renewals after that.
The game of Jenga is indeed trademarked. It has been so ever since 1983 when its creator, Leslie Scott, sold the game in England exclusively through her own company known as Leslie Scott Associates. She later sold the exclusive marketing rights to Robert Grebler and Pokonobe Associates, who trademarked the game and subsequently launched it in North America. Today, Hasbro Incorporated is the official Jenga licensee.
Now, you know even more about the wonderful game of Jenga. Hard to believe there is so much work involved in marketing such a simple game! However, when you purchase it with the trademarked logo, you are undoubtedly getting an authentic and high-quality product you can trust!
That being said, it is time to get your family and friends together for an exciting night of competitive play. Break out those Jenga blocks and start building. Who knows, the next record-breaking tower could be yours! Good luck, play smart, and have fun!